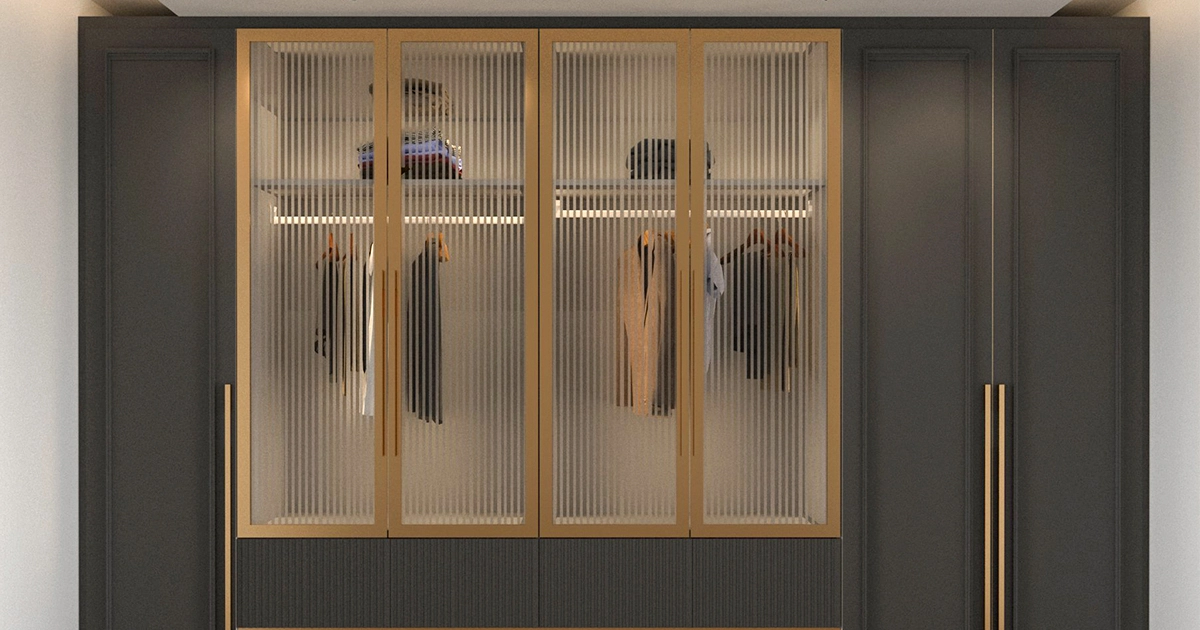 Aura Living, a brand proudly launched by Hadayat & Co., unveils its latest collection of kitchen and wardrobe designs. Have a look at these promising designs that have the potential to redefine your home aesthetics in 2023. With an eye for contemporary trends and timeless sophistication, Aura Living presents various options that blend seamlessly with modern home styles.
Kitchen and Wardrobe Designs by Aura Living
Aura Living offers many kitchen and wardrobe designs specially crafted to suit our client's tastes and preferences. You can envision a minimalist kitchen with sleek lines or a luxurious wardrobe with abundant storage, Aura Living can serve your desires for home improvement. Our designs are made with a fusion of premium woodwork, Italian laminates, and high-quality hardware imported from Blum, Austria and Sailce, Italy. 
Premium Woodwork
Crafted with precision, Aura Living's kitchen and wardrobe designs offer premium woodwork and high-quality aluminum glass shatters. Our kitchenware is made with High-Density Fiberboard (HDF) to ensure durability and longevity, promising a stylish yet long-lasting addition to your home. High-density fiberboard (HDF) uses higher pressure during forming. HDF is often used for specific components or surfaces that require additional strength and durability in Aura Living kitchens. With its enhanced density, HDF provides a solid foundation for various finishes and treatments, ensuring the longevity and quality of Aura Living kitchen components.
Why Choose Kitchens and Wardrobes from Aura?
At Aura, we pride ourselves on providing our customers with the highest-quality kitchens and wardrobes. We understand that these are essential elements of your home, and we strive to deliver products that meet and exceed your expectations. Here are some reasons why choosing kitchens and wardrobes from Aura is the best decision for your home:
Precision Cutting & Edge Banding

Versatility of Materials for Carcasses (Particle Board, MDF, HDF, PVC, Veneer & Painted)

Versatility of Material choices for Fronts 

Use of high-quality European Hardware

In-house service team to rectify any after-sales issues
1- Precision Cutting & Edge Banding
Our commitment to precision cutting and edge banding ensures that every piece of furniture we create has clean lines and a flawless finish. We use advanced technology and techniques to guarantee the highest level of craftsmanship, creating visually appealing and durable products.
2- Versatility of Materials for Carcasses (Particle Board, MDF, HDF, PVC, Veneer & Painted)
We offer a wide range of materials for the carcasses of our kitchens and wardrobes, including particle board, MDF, HDF, PVC, veneer, and painted options. This versatility allows you to select the material that best suits your style preferences, budget, and functional needs.
3- Versatility of Material Choices for Fronts 
We also provide a variety of material choices for the fronts of our kitchens and wardrobes. Whether you prefer melamine sheets, glass, solid wood, veneer, matt/glossy paint, inlay, or fluted designs, we have options to suit every taste and design aesthetic.
4- Use of High-Quality European Hardware
We believe that the quality of the hardware used in our products is just as important as the materials themselves. That's why we exclusively use high-quality European hardware to ensure smooth functionality, durability, and long-lasting performance. From hinges to drawer runners, our hardware is built to withstand daily use and provide a seamless experience.
5- In-house Service Team 
At Aura, we understand that sometimes issues may arise after your purchase. That's why we have an in-house service team dedicated to rectifying any after-sales issues promptly and efficiently. We are committed to providing exceptional customer service and ensuring your complete satisfaction with our products.
Walk in Closets by Aura Living
Ever dreamt of having a spacious and organized walk-in closet? At Aura Living, we bring that dream to life, offering tailor-made solutions for your storage needs. Experience the joy of a clutter-free wardrobe with designated spaces for each item, making dressing up a delightful experience.
Customizable Kitchen Designs
Aura Living understands that every homeowner has unique needs and preferences according to their home design. We have various customization options to ensure our kitchens adjust perfectly to your overall house theme. You can choose your preferred cabinet colors, tiles, and woodwork for your kitchens.  From kitchen cabinets to colors, we provide many options to make your kitchen a reflection of your personal style.
Countertops Available in Solid Surface, Granite & Marble
Our countertops in Aura Living's kitchen designs are available in materials like Corian Granite and Marble. Whether you prefer timeless marble's design elegance or granite's durability, you can find the perfect matching styles for your kitchen.
Conclusion
Discover Aura Living by Hadayat & Co., which brings top-notch craftsmanship, quality materials, and innovative designs to your kitchen and wardrobe. Elevate your living spaces with our range of customizable options and experience the perfect way to remodel your kitchens and wardrobes at the best prices.
FAQs
What are the popular kitchen cabinet colors offered by Aura Living?
Aura Living provides an extensive range of kitchen cabinet colors, including classic whites, warm neutrals, elegant blacks, and various shades of wood finishes.
Can I request a customized kitchen design based on my kitchen space?
Absolutely! Aura Living specializes in creating tailor-made kitchen designs, ensuring that your kitchen fits perfectly into your available space and meets your specific requirements.
Are cupboard designs available to maximize storage in small spaces?
Yes, Aura Living offers cupboard designs optimized for small spaces, ensuring efficient storage without compromising aesthetics. They employ smart storage solutions to make the most of limited room.